Do your ethics take a backseat to saving a quick buck for travel? Would you do anything to score a free seat upgrade on your next flight? Are you comfortable with skirting the law if it means you can travel better, farther, cheaper? Then you've come to the right place.
Vagabondish is reader-supported. When you buy through links on our site, we may earn a small affiliate commission. Read our disclosure.
Here are 20 mostly unethical, possibly illegal, but entirely useful hacks for shameless budget travelers:
(Obvious note: I'm not suggesting that you actually use any of these. But you could …)
#1: Help Yourself to the Hotel Mini Bar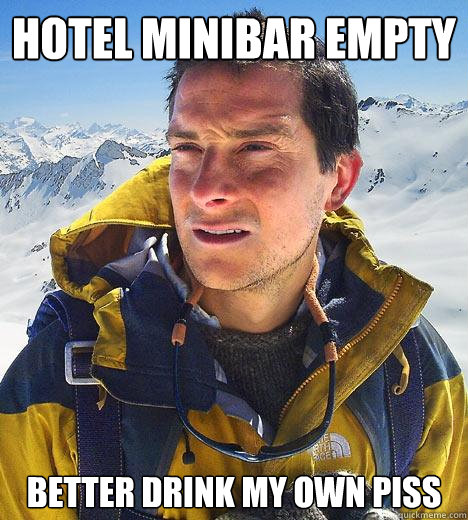 Among the most disputed charges for travelers are from the in-room minibar. I rarely ever help myself to a $12 beer but, on occasion, the front desk has (incorrectly) assumed that I did. I simply disputed it and it was promptly removed from the bill without question. Since it's the hotel's word against yours, they risk flat out calling you a liar if you dispute it. So … dispute it. In all my years of travel, I've never had a hotel argue the point with me.
It's worth noting that, if you're going to "help yourself", be reasonable. A bottled water and candy bar is likely to be overlooked. Emptying every last nip into your purse at checkout a la Lindsay Lohan isn't.
#2: Leave the Toiletries at Home

A girl can never have too much shampoo © YourBeauty411
Unless you're an incredibly particular traveler ("But I need my Blueberry Lavender Surprise body scrub!"), there's no need to travel with most toiletries. Assuming you're staying at anything above a hostel or truck stop motel, they'll likely provide in-room basics like soap, shampoo, tissues, etc. Many hotels nowadays offer a wide array of complimentary toiletries.
If what you need isn't in your room, call the front desk. Even budget hotels typically offer free toothbrushes, toothpaste, mouthwash, razors, hair dryer, etc. They're not always the best quality products, but they do the trick.
… which brings us to our next tip:
#3: Pack Your Own Booze

This should hold me over till Albuquerque …
Without all those pesky toiletries taking up space in your 1-quart Ziploc bag, you can now fill said bag with more important things like whiskey. Most airlines frown upon this, so don't be a fool. Disguise your Captain Morgan in a leak-proof GoToob bottle or the like. You'd be surprised just how much Good Time Juice you can fit into a 1-quart bag.
… or if you're the really cheap (and totally unethical) sort:
#4: Drink Free on the Plane
Buy a $10 general-use gift card (like a Visa prepaid or the like), deplete the balance, then use the card to "pay for" booze on your next flight. This is only possible on flights without real-time credit card processing. This means they instead use store-and-forward technology (meaning in bulk when the plane lands).
However, more airlines are upgrading to real-time credit card processing. Still, the worst that will happen if you try and fail is that your gift card will be declined and you'll be forced to actually pay for your drink (which you should've done in the first place, you cheapskate).
#5: Score a Free Mobile Charger
Mobile chargers and power adapters are among the most common things left behind by travelers. Hotel staff typically throw them into a box or the general lost and found bin. Which means they're up-for-grabs to needy (or greedy) travelers.
Simply call front desk and let them know the airline lost your luggage and ask if they have a spare charger "lying around". They'll typically let you root around their box of spares to find one that fits your phone. And chances are they won't bother to follow up with you to make sure that it's returned.
#6: Get Free Passport Photos

"I'm not as think as you drunk I am …"
You're a fool to still be paying $10 USD or more for passport photos. Especially when you can literally do it at home for free. Check out ePassportPhoto.com's simple passport photo wizard. You simply:
Upload your photo
Check that it meets official government standards
(Share it with ePassportPhoto's Facebook team if you have any questions)
… and print your finished photos at home
#7: Score Dirt Cheap Downtown Parking

Like a glove! via CarMemes.com
This one's been around a while but it's so clever that it's worth mentioning again …
Assume you're visiting any major city where parking can easily run north of $60 USD (or more if you drive anything larger than a Fiat) daily. Find a mechanic that offers cheap tire rotation. Leave your car (or even rental car) for service and tell them you'll "be back later in the day". Play your cards right and it should cost you less than $20 USD.
#8: Get Free Concierge Service
Luxury hotels offer free concierge service to hotel guests. But they rarely if every actually check to confirm that a guest is staying at the hotel. Which means anyone off the street (i.e. you) can just as easily avail themselves of hotel concierge services for free.
#9: Store Your Luggage for Free

via EventPropHire.com
Likewise … many hotels offer free luggage storage. And almost none of them will actually confirm your reservation at the hotel first.
#10: Avoid Hotel Cancellation Fees

via Funny Obama
Most hotels allow guests to cancel a reservation that's more than 24-48 hours in the future. If you're already within that window, avoid the cancellation fee by simply rescheduling your stay (for free) to, say, the next month. Then call the next day and cancel it completely (again, for free).
#11: Get Priority Boarding with a Peanut Allergy

"I may be allergic to those …"
If you ask nicely, some airlines such as Southwest offer priority boarding for customers with peanut allergies. Just let the gate agent know that you'd like to get on early to wipe down your tray table and seat area.
#12: Upgrade to First Class for Free

via JokesOfTheDay.net
This one's a gamble, but it can pay off big. Simply dress to impress and board the plane last. If there's an open seat in first class, grab it. Flight attendants almost never ask to see a passenger's ticket and, if they do, the worst thing you'll get is a scolding and an escort to your actual seat.
#13: Save a Few Bucks on In-flight Wifi
Tiered in-flight wifi services charge less (sometimes more than 20%) for smartphone users than for those on laptops. The solution? Simply "cloak" the user agent on your laptop's web browser. It's easier than you think. The User Agent Switcher plugin is available for Firefox and Google Chrome to simplify the process.
#14: Eat a Free Breakfast at any Hotel

"Like GoGurt, but to stay!"
Hotel staff is often overworked, indifferent to what's going on around them, or both. Which means they never bother to confirm reservations for guests snacking at the free continental breakfast. If you find yourself in a hotel without free breakfast (how sad!), simply walk to the nearest 3-star hotel, and help yourself.
#15: Score Frequent Mile Bonuses with the Same Card (… Over + Over)

© via QuickMeme.com
It's a tried-and-true travel hack called "churning" that works like so:
While most credit card bonuses are supposed to be available to new customers only, I and others have repeatedly received generous sign-up bonuses from the same card.

There had been banks that allowed this nearly every month, but by design or by neglect, most banks' computers now seem to only "remember" if you have received a bonus within the last 18 months. So you can cancel your card, then re-apply.

I don't consider it unethical to give a bank another chance to earn your business.
#16: Dust Off Your Old Student ID
If college isn't that far in the rearview mirror, you may be able to score discounts by flashing your old student ID. Even if it has an expiration date, most people won't look that closely at it. It's worth a try, especially to save 20% or more on train tickets, museum admissions, etc.
#17: Replace Your Old Travel Gadgets for Free

Tastes like apple … via WTS Toy Review
This is straightforward (and particularly thieving):
Have something expensive that you can't afford to buy new, that broke prematurely?
Go to a store that sells it.
Check their return policy.
Buy item again, saving receipt.
Clean old item, pack it and return it.
Viola! Everything old is new again.
#18: … or "Rent" Your Travel Gear
In an effort to compete with online merchants, many brick and mortar retailers have relaxed their return policies. Before your next vacation, take a shopping trip for whatever electronics, luggage, clothing, a portable espresso maker, etc. you might need. When you return home, return it all.
You may have to pay a restocking fee on electronics, but that may be better than spending hundreds on items you don't plan to use that often.
#19: Complain Your Way to a Free Hotel Room

©via Centsational Girl
Hampton Inn has a 100% money back guarantee (and they're not the only ones). Reddit user brianflatus reports:
If you aren't happy for any reason at all they are required to comp your room. You can do this nearly as often as you like.

I work for one and we regularly have the same people complain about things, like the room was too cold, or the fan was loud, and we have to comp them. One woman has like 180 free rooms complaints on her profile, but we still have to comp her.

The only way around this is for the hotel owner to set up a review of the incident on a per case basis with Hilton. It's easier just to comp the room and move on. Hilton pays the hotel back anyway.
#20: Catch a Cab Fast

via HittingTheHead.com
Hailing a cab in the city can be especially difficult at rush hour or late night when the bars let out. To skip to the front of the line, simply walk to the concierge desk at any hotel and ask them to call a cab for you.
(Compiled from Reddit and UnethicalHacks.com)