Camagüey is a Cuba's third largest city, and yet it only sees a fraction of the visitors of Havana, Trinidad and Viñales. In fact, unless you've been travelling in Cuba, or have started planning a trip to Cuba, it's unlikely that you've heard of the city's tangled alleyways, stately baroque-style buildings and sprawling Spanish plazas. This is a real shame because Camagüey has all the history, architecture, and charm of more popular cities in Cuba, but none of the crowds or hassle.
Vagabondish is reader-supported. When you buy through links on our site, we may earn a small affiliate commission. Read our disclosure.
We arrived in Camagüey after travelling through Cuba for two weeks and to be honest, we didn't expect much. But upon arrival, we hopped on a cyclo-taxi and, as it weaved its way through a labyrinth of cobblestone back roads, past street markets and through open parks, the sun peered between the shadows of meticulously constructed 16th century buildings and echoed with the familiar sound of Cuban music being played in the streets.
This is Camagüey and if you're heading to Cuba, you won't want to miss it.
What To Expect
After reading the Lonely Planet's description of Camagüey, you'd be forgiven for thinking it's a medina-like maze, congested with street touts, hassle and hustlers, but that simply wasn't the case in our experience. While the streets in this city don't follow the usual grid-like pattern of other Spanish towns, the jungle of knotted calles is actually very airy and not as claustrophobic as a medina in Morocco.
The clustered streets are a direct result of the city's historical battles and its constant defence against rebel-raiders like Henry Morgan. The complicated layout was created to confuse invading pirates and provide shelter for the city's residents, who were constantly on edge from the relentless attacks.
Today, the peculiar urban blueprint makes for a unique place to visit, and now that there are no more musket-toting pirates to worry about, it has become a fun place to explore.
What To See
Calle República: The main kilometer-long pedestrian walkway. Here you can stroll, shop and enjoy an ambiance and energy that only a lively Cuban city is able to provide. Cafes, bars and bistros all spill out onto the street, their colorful umbrellas, ice-cold beers and live salsa music luring you in every time you pass by.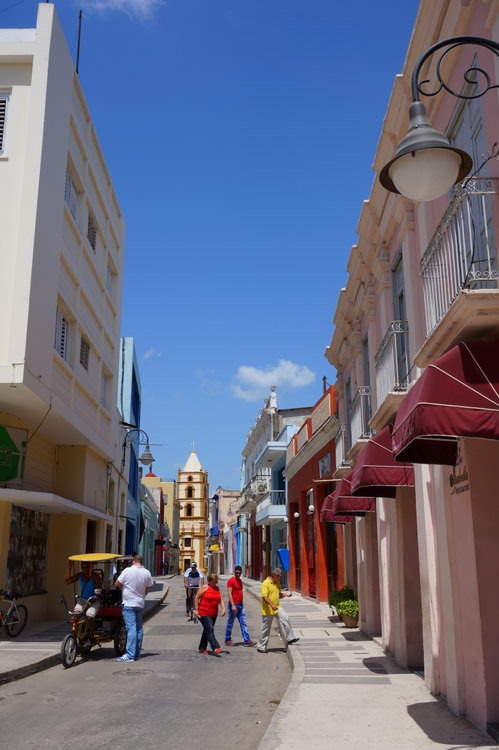 Looking Towards Calle Republica in Camaguey
Places of Worship: Camagüey is known as Cuba's Catholic soul, so you'll find a higher concentration of churches, cathedrals and chapels than anywhere else in the country. The first one that will likely catch your eye is the enormous Sacred Heart of Jesus Cathedral. Its castle-like towers and gothic archways can be seen soaring above the skyline from most parts of the city. Other beautiful churches include the Church of San Juan de Dios in the San Juan Plaza and Church de la Soledad which dominates an intersection on Calle República.

Cathedral Camaguey, Cuba
Theatre Street: This row of 3 theatres (plus a theatre themed restaurant) is one of the most unusual areas in Camagüey. If you're in town in time to see a show, definitely don't miss it! This is where Camagüey's annual theatre festival is held and great productions can be seen here year-round.

Theatre Street in Camaguey, Cuba
Plaza Del Carmen: This beautiful plaza opens up at the end of a narrow pedestrian street that is lined with pastel-colored colonial homes. The square was restored in the 18th century and today it boasts some sculptures, a beautiful church (Iglesia de Nuestra Señora del Carmen), and classic Camagüey stylings.
Plaza San Juan de Dios: A lovely national monument and one of the best examples of a colonial relic in Cuba, this tranquil and elegantly designed square is lined with colonial arches, red-tile-roofed homes and cobblestone walkways. Your guidebook may list the restaurants in this square as some of the best, but we feel that the notoriety has gone to the chefs' heads and you can actually find tastier food at better prices elsewhere.
Plaza Maceo: Sometimes you can catch live music here, including salsa, merengue and even classical orchestras. The real highlight of this open space is the nearby La Cava wine cellar (more below).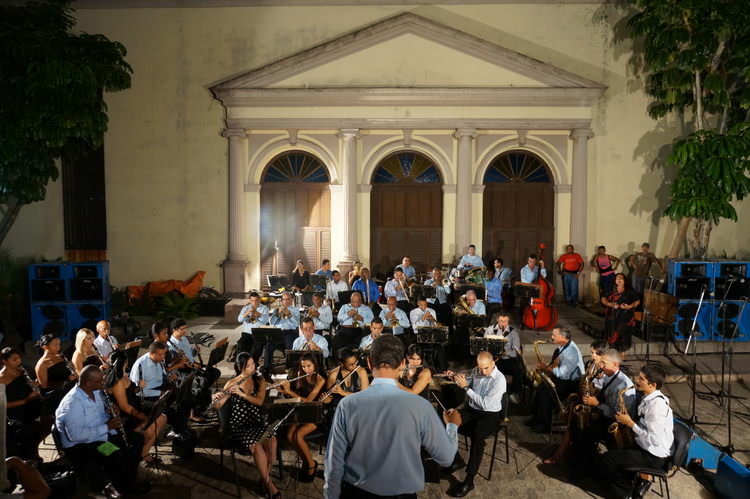 Plaza music in Camaguey, Cuba
Avenida de los Martires (Avenue of the Martyrs): A kilometer-long showcase of Cuba's finest column-entrance facades, Avenida de los Martires is one of the most fascinating streets to stroll on in Camagüey. The best part is that the enormous columns provide an overhanging shade so that you can walk here even in the heat of the day.
Best Eats:
Something that really sets Camagüey apart from other cities in Cuba is its high concentration of good restaurants with affordable prices. After spending time in Trinidad, Viñales, Cienfuegos and Havana, we couldn't believe how cheap and delicious the food was in Camagüey!
La Isabella Restaurant: This funky little place serves up pasta dishes, tasty pizzas and affordable bottles of wine (from $10). But what really makes La Isabella special is the funky theatre decor. Located on the street of theatres, this place really does a good job of giving the diners the impression that they're eating in a cinema lobby.
La Cava Restaurant & Wine Cellar: If you're looking for a posh setting without a pretentious menu and price list, then La Cava is the perfect place to spend your afternoon. The scent of aged oak and tasty appetizers fills this chilly wine cellar and the wait staff is very professional (an unusual occurrence in Cuba).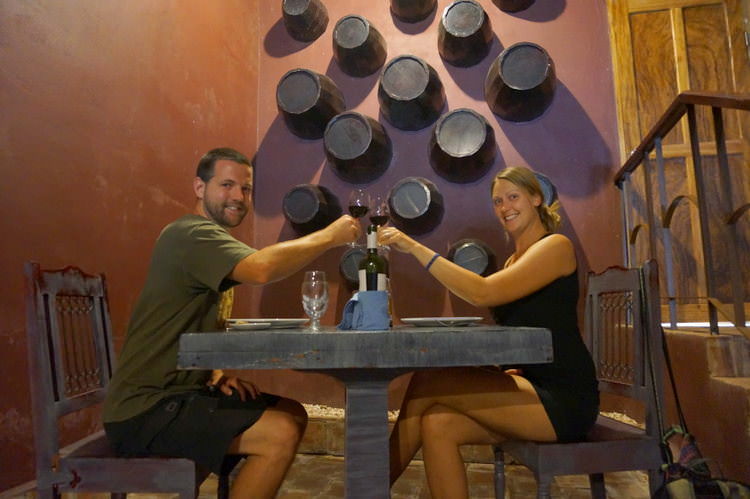 Wine Cellar in Camaguey, Cuba
Bodegon Don Cayetano: This place probably has the best location in town. Nestled under the shadows of the Soledad Church on Calle República, it is a great place to come for a cold beer and some appetizers. Plus there is live music on most nights.
Pizzeria La Piazza: You'll find this restaurant right across from La Soledad Church and while it won't win any awards for service, it's the best place to try Tinima, Camagüey's famous local beer. You can pay for your meal in national pesos so make sure that you're given the peso menu. The staff often give gringos a "special" menu that is around 4 times more expensive than the normal one. Ask to see the peso menu.
Nearby Attractions:
Coco Beach: Located about an hour and a half outside of the city center, this is one of the nicest beaches in Cuba. You can lounge on the sand, go diving, or spot flamingos, as well as enjoy a wide variety of water-based activities.
Convinced?
If all of these sites, great restaurants, theatrical productions, nearby attractions and a cool street layout isn't enough to lure you to Camagüey, then let it be the vibe that convinces you to visit. A stroll along the column-lined boulevard of Avenida de los Mártires, getting lost in the backstreets of central Camagüey, or walking the length of Calle República feels very different from similar jaunts in other Cuban cities. Camagüey has a wonderfully sophisticated feel and the locals will welcome you in. If you're heading to Cuba, then make sure you plan to visit Camagüey, we guarantee that you won't be disappointed.