Wondering whether some cars are more popular in some countries than others? Each country has their specific preferences for vehicles for many reasons. For example, small cars are popular in densely-populated countries, whereas trucks are preferred in countries with a lot of space. And then, of course, other factors like terrain and the local manufacturers determine the vehicles commonly found there.
Vagabondish is reader-supported. When you buy through links on our site, we may earn a small affiliate commission. Read our disclosure.
Below is a map by comparethemarket.com.au that will show you which cars are most beloved by which countries.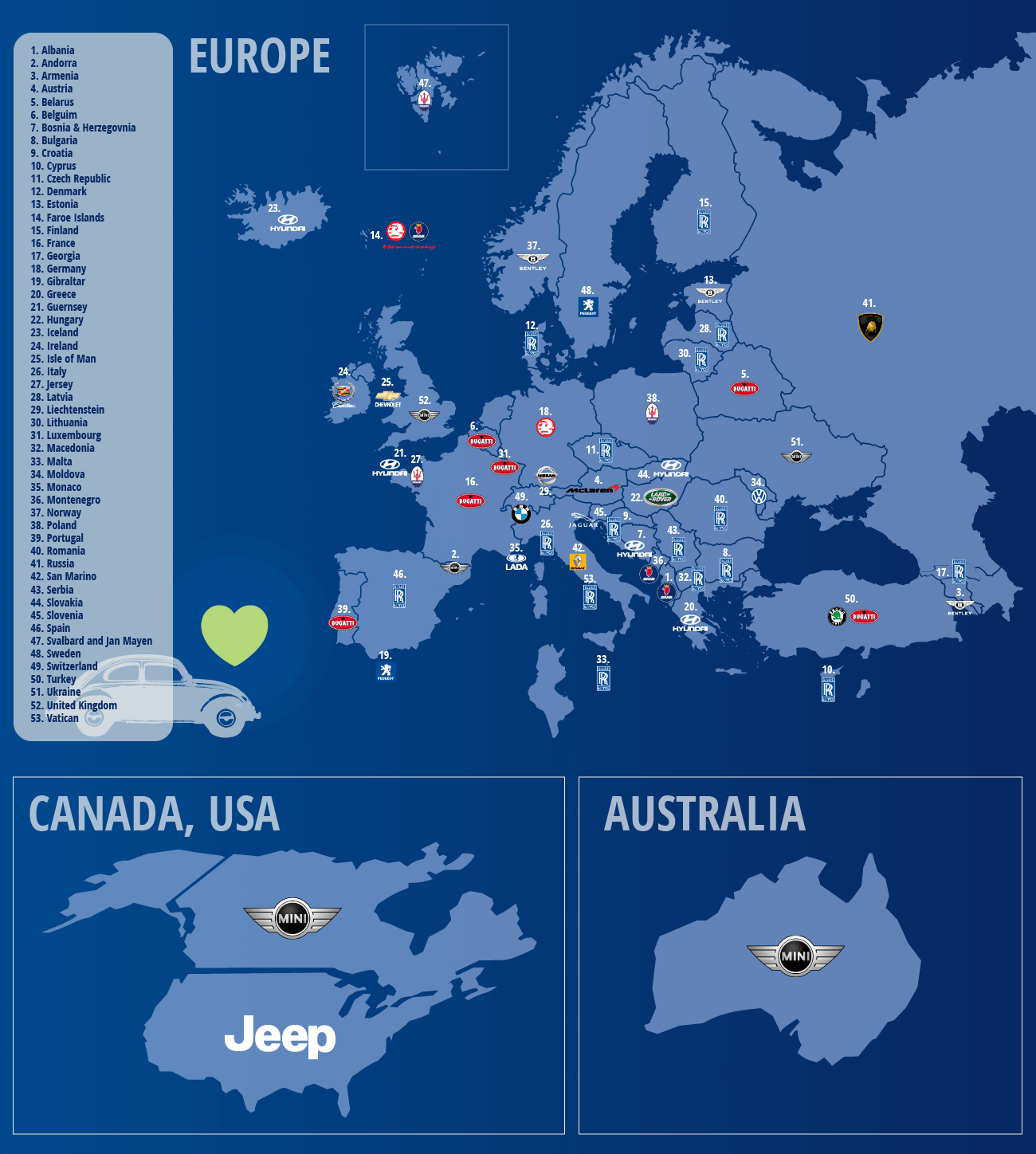 Toyota
In terms of brand or make, Toyota is the most dominant car in many places around the world. The Toyota Hilux is the top vehicle in many regions, including North America, Australia, Southern Africa, and Argentina. This can be attributed to the presence of local manufacturers in these places.
The Corolla is also a popular model in different countries where Toyota has a strong presence, which isn't surprising given that it's a reliable car and has been voted the most popular vehicle in the world for 15 years in a row. More than one million Toyota Corollas are sold in different countries.
Jeep
Jeep is renowned for offering dependable SUVs that last. Today, it offers different types of trucks and SUVs designed for tough terrain. Jeep vehicles come in different shapes and sizes and they can carry lots of cargo. The cars are comfortable and have versatile systems that make them stand out from the rest. For instance, the classic Jeep Cherokee is popular in different places including North America, Europe, Australia, and some parts of Africa. This is a compact SUV with a powerful engine that offers the best performance.
Electric Cars
Electric vehicles are significantly gaining popularity in the automobile industry. These cars help prevent the pollution of the environment, which is why many countries are providing incentives for consumers to consider this option. In particular, the Tesla Model 3 is already popular in Norway and the Netherlands. Tesla is also the best-selling vehicle in more than 40 countries across the globe.
Other Cars
In North America, Ford is a popular brand, and the best-selling car is the Ford F-150. In Canada, the Ford F-series rugged version is the most popular. However, in other places like Mexico, most people prefer Nissan Versa cars. Toyota is popular in South America just like in other parts of the globe. In Brazil and Paraguay, Chevrolet Onyx is the most sought-after.
Light Vehicles
In the light vehicle segment, passenger cars including sedans, subcompacts, and hatchbacks are the best-selling vehicles across the globe. Toyota, Ford, and Jeep make a variety of passenger cars, and they are more popular than trucks. However, SUVs, trucks, and vans are also best sellers in other countries. These off-road vehicles are versatile and suit different types of terrains.
There are different types of cars offered by various automobile manufacturers everywhere in the world. Some vehicles are more popular than others in many countries. A closer analysis of the distribution pattern of cars in the entire world shows that Toyota remains a popular model and is found on all continents. Tesla is another popular maker with a constantly increasing market share.